Commitment to Design
Tenugui-Bon®, winner of the Good Design Award/Good Design Award of Small and Medium Enterprises
Created from the spirit of hamamonyo, the Tenugui-bon won the 2007 Good Design Award/Good Design Award of Small and Medium Enterprises.
Our unique world has been recognized abroad, with exhibits at Destination Japan in the MoMa Design Store in New York, selection for the Maison & Objet exhibit in France, and more.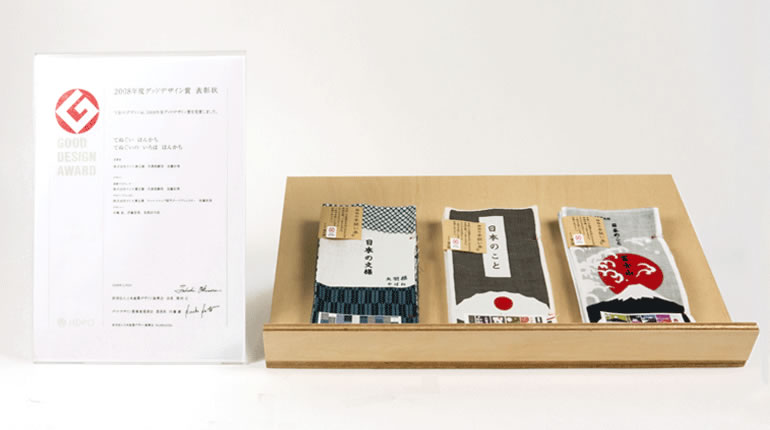 Iroha Handkerchief, winner of the Good Design Award
In 2008, hamamonyo's Iroha Handkerchief won the Good Design Award. The Iroha Handkerchief is a tenugui handkerchief half the size of a normal tenugui with the edges hemmed. Each and every character of the hiragana alphabet is printed in various patterns and colors for pieces bursting with hamamonyo's spirit of playfulness.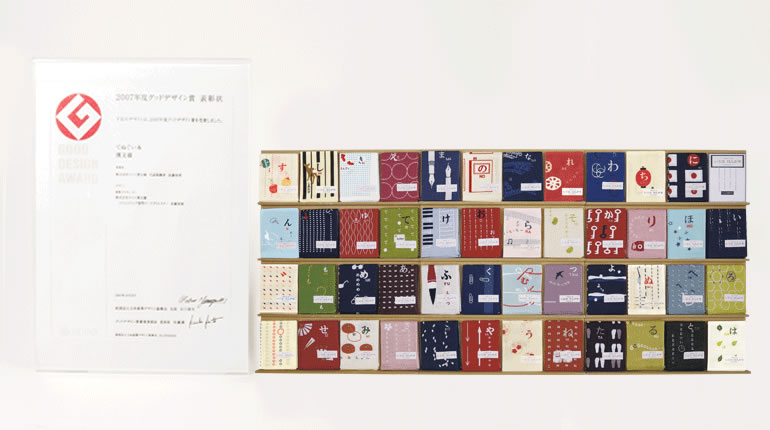 Kasane-E Tenugui, winner of the Good Design Award
Kasane-E Tenugui won the 2014 Good Design Award.
Both the front and back printed with Nassen dye, and when it is held up to the light, you can see overlapping patterns, meaning these tenugui find new forms of expression while holding the playful spirit of hamamonyo dear.