About Yokohama Nassen
The History of Yokohama Nassen
On par with the techniques of the Como region of Italy, the Yokohama Nassen dyeing method has over 120 years of history and is highly esteemed.
Many foreign trading companies set up shop here when the ports of Yokohama opened to foreign trade in 1859.
Woodblock printers, who had until then produced ukiyo-e and labels for export tea boxes, moved here, incorporating superior woodblock printing techniques of the East and West to develop the Yokohama Nassen printing technique.
Artisans from all over Japan gathered together to compete on their craft, absorbing foreign knowledge as they established the modern Yokohama Nassen technique.
A trading and distribution center of silk, Yokohama was blessed with favorable weather conditions and water resources, and became a major area of production for printing.
It was during this era that hamamonyo was founded as a printing factory in 1948.
hamamonyo was born out of the experience of accumulating original technology for dyeing scarves and handkerchiefs produced locally in Yokohama while exporting products overseas as well.
Commitment to Yokohama Nassen
Nassen Printing, including yuzen and T-shirt printing, dyes cloth using a mold, but hamamonyos Nassen printing method known as "Yokohama's traditional Nassen stencil dyeing".
Yokohama Nassen is an advanced technique cultivated over years of dyeing silk scarves in dozens of colors using dozens of molds. For hamamonyo's tenugui, we produce a Nassen mold for the design, then dye our original cotton fabric using reactive dyes.
1. Stencil Making
The Nassen molds needed for dyeing were once produced by carvers, but we have adopted a method called photoengraving, in which designs are traced faithfully onto film and then exposed.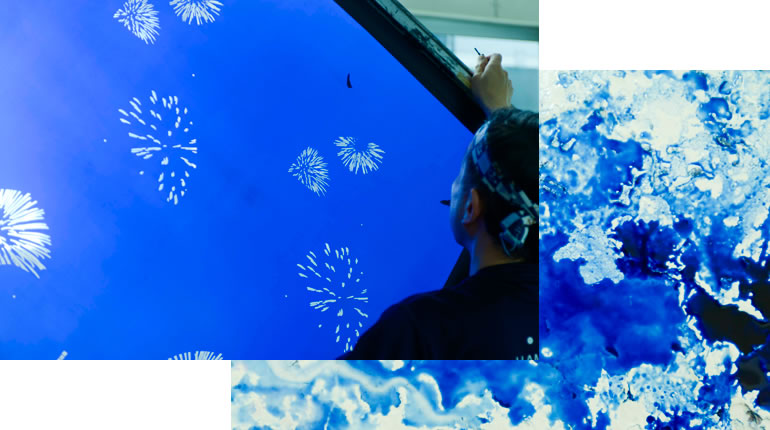 2. Coloring
Dyes are selected and mixed based on the type of fabric or the color tones of the pattern.
The richness of color and depth of texture distinctive of Yokohama Nassen reflects the quality of the dye mix.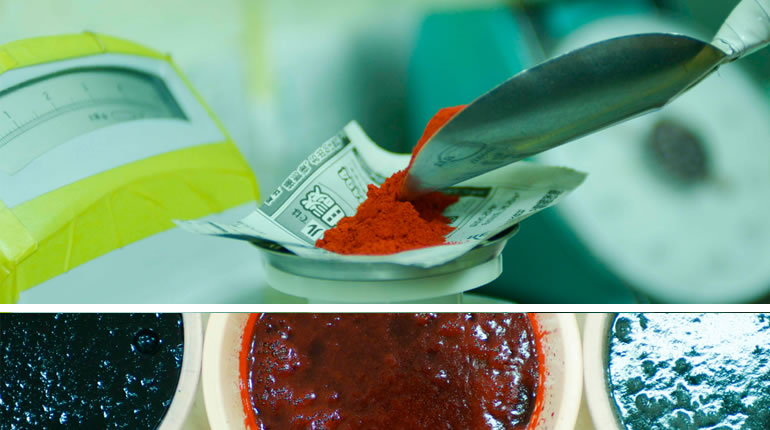 3. Nassen Printing
In this hand-dyeing process, white cloth is set onto a 25-meter printing stand, over which a frame is placed. Then, the first color is applied using a squeegee, and once it dries, the second and then third colors are applied.
The texture and depth of color come out differently depending on the mix of dyes. The temperature and humidity of the day have a slight effect on the end result as well, and the ability to apply the pattern uniformly without bleeding the design of any of the prints is what being a craftsman is all about.
In the past, these people were called katatsuke shokunin ("stencil craftsmen").

Several further steps are needed to get the detailed patterns, color coding, and distinctive coloring.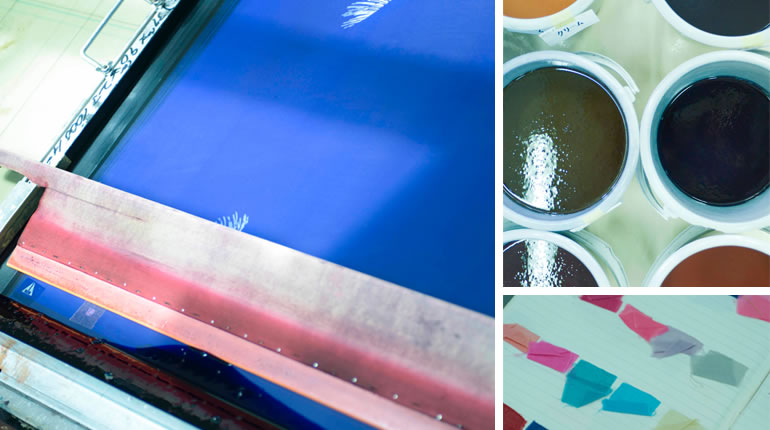 4. Steaming
The steaming process fixes the dye to the fiber of the threads and steams the roll of cloth at high temperatures to achieve beautiful coloring.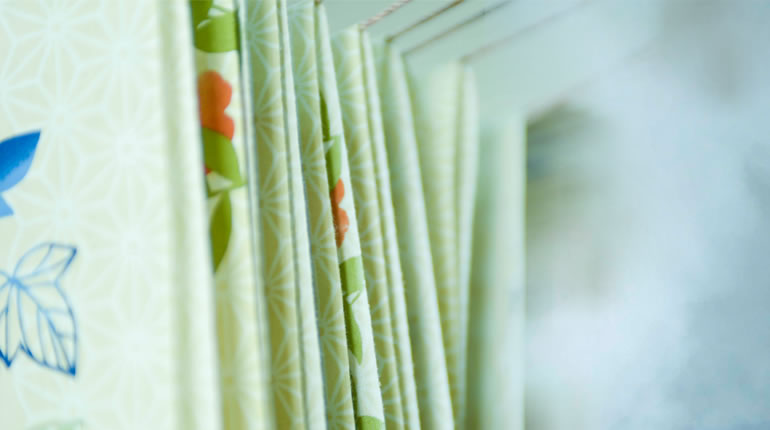 5. Water Washing
The water washing process removes the adhesives used in the dyeing stage and washes the product at a high temperature while fine-tuning the time to create a distinctive texture.
Although a special washing machine is currently used, washing used to be done in Ooka and Katabira Rivers that run through Yokohama.

Since hamamonyo's tenugui pass through all these processes, fading is minimal, meaning you can actually use them.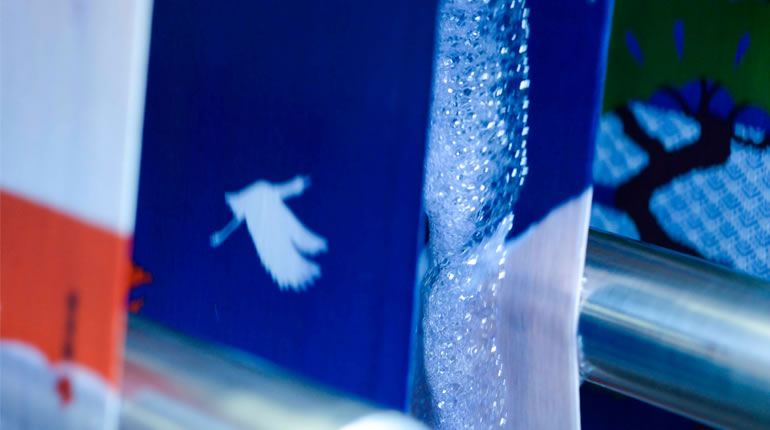 hamamonyo Tenugui Special Fabric "Wakaba"
In order to make full use of the texture of natural fibers, we use a special fabric for hamamonyo's wazarashi (bleached cotton) tenugui called "wakaba". It is difficult to dye rolls of wazarashi as is without years of experience, but it is this level of commitment that creates the distinctive texture of hamamonyo's tenugui.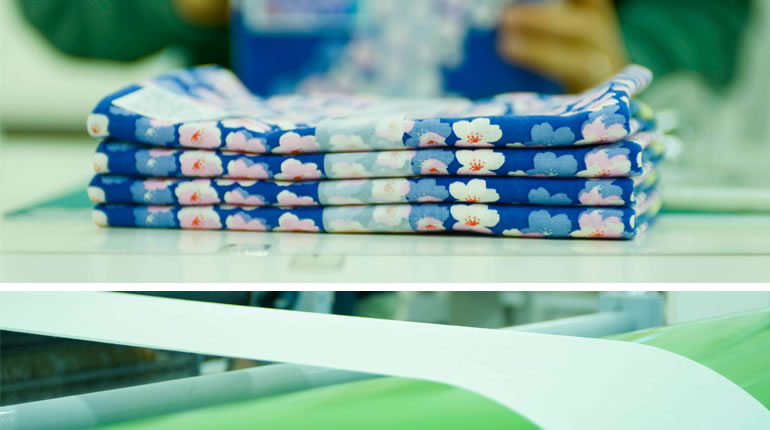 hamamonyo Nassen Tenugui
hamamonyo Nassen Tenugui are created from inherited tradition and craftsmanship that allows, through a series of manual processes, allows for the vibrant expression of delicate patterns without ruining the texture of the fabric.

This is a world of craftsmanship where plates are made for each color and not even 1 millimeter of deviation is allowed.

Yokohama Nassen textile printing started with handkerchiefs using almost the same method for woodblock printing passed down from the Edo period, then went from paper Nassen printing to the establishment of screen printing using light exposure during the early Showa period.
Yokohama Nassen has been recognized worldwide as a delicate dyeing method for high-quality silk scarves.
hamamonyo tenugui keeps the tradition of Yokohama Nassen alive today.